With one form to rule them all, the Gravity Hopper Multisite Global Forms plugin is the ideal solution for distributing Gravity Forms to your WordPress multisite network. Create. Distribute. Sync. Receive.
Step 1: Create Source Form
Create any form on your network's primary site using the familiar Gravity Form editor.
Step 2: Make It Global
Distribute your form to all sites (or specific sites) on the network with one click.
Step 3: Sync Changes
Any changes you make to fields and basic settings can be synced across the network.
Step 4: Receive Entries
Optionally choose to receive entries from network sites into your primary dashboard.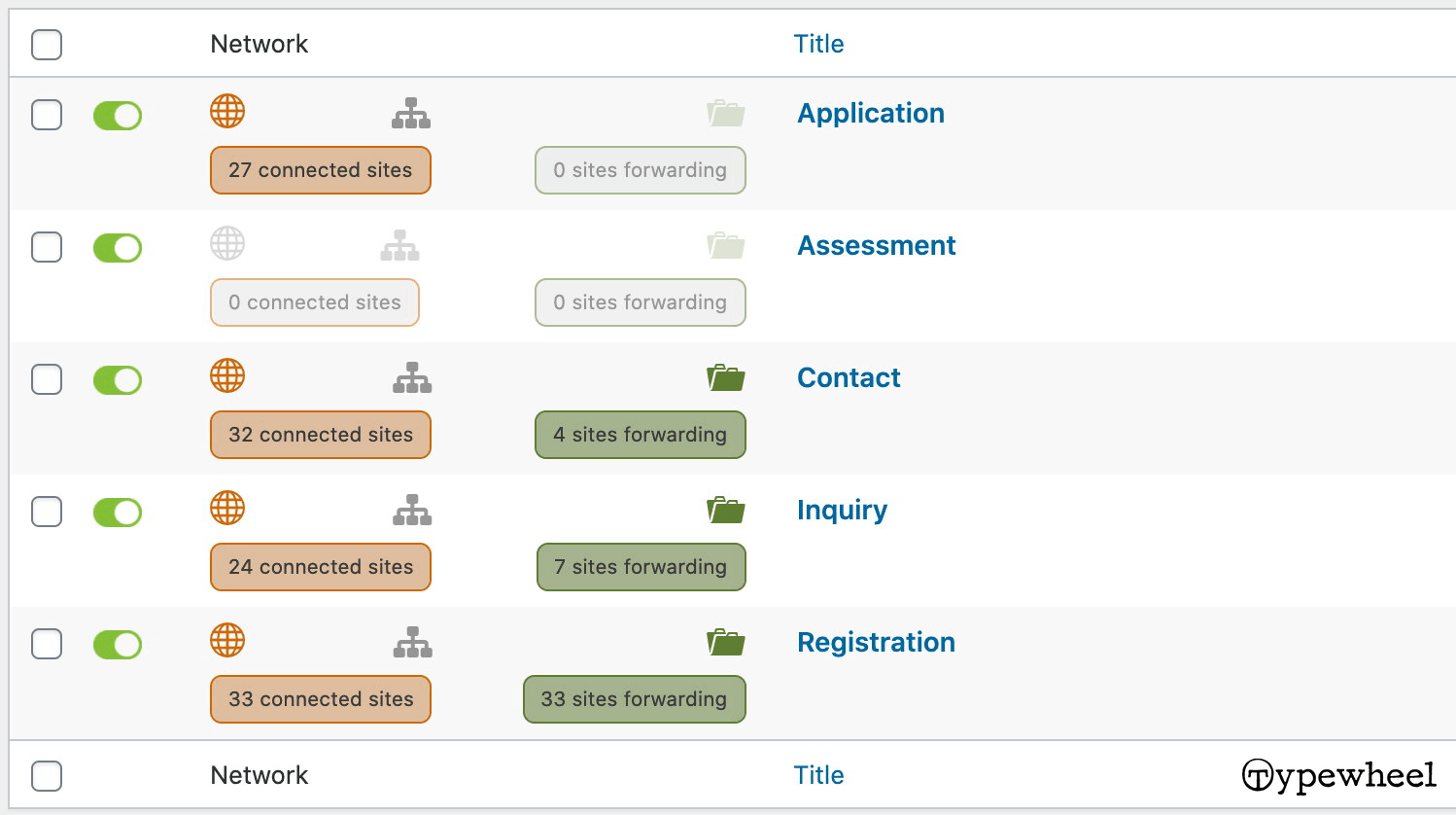 Pricing
Basic
Your purchase plants 3 trees
Renewals offset 50 KG CO2
Advanced
Your purchase plants 9 trees
Renewals offset 250 KG CO2
30-Day 100% Money Back Guarantee!
You May Be Wondering…
What happens when a form is edited on a child site?
The plugin restricts users from editing attributes of a form that are considered global (i.e. general form settings, form fields, and confirmations). Your network users will be allowed to customize form feeds (including notifications not deployed with the form and unlocked feeds added by other add-ons). Such customizations will not be overwritten when a global form is synced. All form entries on the child site will remain.
Do we play nice with other Gravity Form add-ons?
Multisite Global Forms should work alongside other Gravity Form add-ons, but has not yet been tested thoroughly with all native or third-party extensions. Note that you will want to ensure any add-ons in use on the form, will need to also be active on the network sites. If you encounter a conflict, please submit a support ticket and we'll check it out.
Are large networks supported?
Mostly. At the moment, performance in a larger network environment is likely dependent upon your server infrastructure. The network overview dashboard is currently operational only on networks with less than 200 sites. We've not yet had opportunity to further optimize the plugin for use on larger networks.
What feeds are run when entries are received?
If you have a form set to send entries from the network sites to the primary site, all feeds (notifications, payment processing, etc.) will be run on the child site. No feeds will be run on the network's primary site.
What happens when a global form is trashed or deleted?
When a global form is trashed, it is moved to the trash on all sites. When a global form is deleted, it is permanently deleted from all sites. If you want the form to remain available on all sites, then you should first unset the global flag for the form.
Are form feeds synced to the network?
Yes and no. We're working on this. There are some inherent limitations in handling feeds. Certain feeds have settings that can easily be ported to other sites. Other feeds are configured in a way that they should not be copied to a site other than that on which it was created. At the moment, Stripe feed syncing has been enabled and is being used as a testing ground for how (and to what extent) this feature should be available. Prior to deployment, you can lock or unlock specific feeds for editing by the site owner.